A Better Smile With Dental Implants?
Losing one or more teeth can feel embarrassing, and adults with tooth loss may struggle with eating, speaking and smiling naturally. Teeth are meant to work together to form a healthy and strong smile. While a partial denture or full denture may be recommended to restore your smile, dental implants are recognized as the standard for tooth replacement by modern dental science. Able to restore a drooping or sunken-in face shape after tooth loss and replace one or more missing teeth with strong, permanently fixed replacement teeth (dental crowns), dental implants are highly versatile and can last a lifetime with proper care. Give us a call at 915-599-9192 or visit our dental practice in El Paso to find out more about our services!
What Are Dental Implants?
The same way your natural teeth have strong root structures, dental implants are made up of strong titanium screws secured into the jawbone to act as a strong support for a pontic, or dental crown. This "tooth-loving" titanium material supports the natural bone density in the jaw and prevents rapid deterioration of the jawbone after losing one or more teeth. Once a dental implant is placed, a natural looking, tooth-colored dental crown is attached to the dental implant with a connecting piece, known as an "abutment." The dental implant may also be prepared to support an implant-supported denture.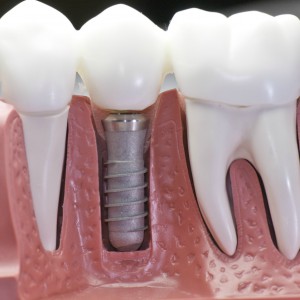 Risks of Tooth Loss
When you have lost one or more teeth due to age, decay or a dental accident, your confidence and smile may feel incomplete and your oral health is put at risk. Chances increase for losing more teeth over time, and when remaining teeth can't rest easily in the mouth, uneven pressure is placed on the smile and your bite may change. This may result in jaw pain or a condition known as TMJ disorder or TMD. Missing teeth may also cause your face shape to change, appearing droopy or sagging over time. It can become difficult to eat or speak after tooth loss, and even cleaning your teeth can become difficult. If you have lost one or more teeth, contact us to set up a consultation and take the first steps towards better oral health with a full smile.
Why Dental Implants?
The benefits of dental implants vary from person to person, but many patients are thrilled to know that dental implants can last a lifetime with proper care, and won't shift or slip out of place when eating, speaking or smiling. When you are ready to enjoy a healthier smile again with dental implants, consider some of the following dental implant benefits:
Looks, feels and functions like strong, natural teeth
Permanently fixed into the jawbone for a secure and permanent fit
Can improve abilities to eat and speak comfortably
Reduces risks of gum disease when teeth are cleaned more easily
Improves your natural face shape and bite
Can last a lifetime with proper dental hygiene and six month checkups
Do I Need A Dental Implant or Implant Supported Denture?
Every patient is unique at Sol Dental in El Paso. But when you come in for care with us we'll get to know you, listen to your concerns and form a treatment plan that best suits your dental goals and comfort level. At Sol Dental in El Paso, we'll help you get the dental care you need to live a better life with a stronger, healthier smile. Give us a call at 915-599-9192 to get to know our team and schedule your consultation!
---
Recent Posts
Below you can find some of our adult preventative care and cosmetic dentistry articles. Go deeper and learn more about Sol Dental's dental approach and philosophy – from effective dental practices, to amazing oral hygiene to great smiles across El Paso, Texas!