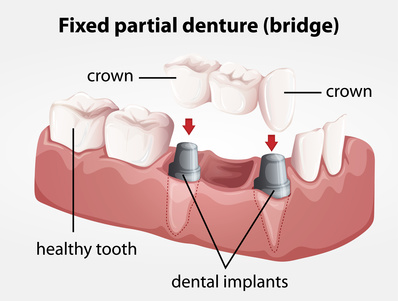 Dental Bridges are a fixed restoration to replace a missing tooth or row of teeth. They differ from the porcelain crown in that crowns in the following ways:
Fixed partial dentures are used to restore a tooth to its original form and function
Dental bridges utilize existing teeth to fill in a gap left by a missing tooth or teeth
A dental bridge anchors an implant into place with attachment to the adjacent teeth in order to preserve the natural look of teeth and establish symmetry.
A variety of materials are used in bridge attachment, such as:
Gold
Porcelain
Porcelain fused to metal.
Contact us to find out more about bridges and which bridges might be right for you, or to schedule an appointment with our friendly and helpful staff.