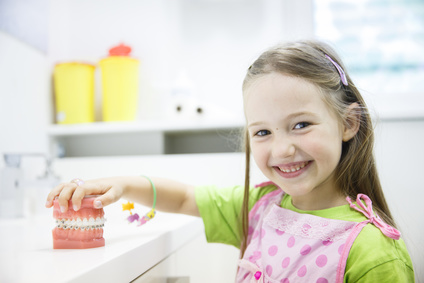 If you're nervous about your child's first dentist visit, you're not alone! Knowing what to expect, however, can help ease those nerves and pave the way for a pleasant experience. Every dentist is different, of course, but this is typically how it goes:
The Waiting Room
Your child's first dental visit will start in the waiting room, which will hopefully be a fun and interactive place. A good pediatric dentist will have a welcoming, kid-friendly waiting room with plenty of toys and distractions for kids.
This not only keeps them busy while you wait, it also provides a positive experience right from the start.
While you're waiting, you'll likely have to fill out the usual health history forms and give insurance information.
With the Dentist
To start, the dentist will introduce themselves and review your child's history. Either before or after the exam, you should have time to ask any questions you might have. Some common topics the dentist will cover are:
How to properly care for a small child's teeth
Oral habits such as thumb sucking and pacifier usage
Preventing teeth-damaging accidents
Dental development milestones
Your child's bite
During the exam, you and the dentist will sit facing each other with your child on your lap, facing you. You'll then lay your child back so their head is in the dentist's lap. This will give the dentist a good view, while giving your child the comfort of mom being close by.
With a small handheld mirror, the dentist will look in your child's mouth and count the teeth out loud.
The first visit especially should be brief – you're just trying to get your child comfortable with the idea of someone poking around in their mouth! However, sometimes cleanings and/or fluoride are required, depending on your child's cavity risk.
On the Way Out
As you're leaving your child's first visit, you should know how their teeth are doing, what you should expect in the future, and your responsibilities for their good dental hygiene. You should also know when to follow up with their next appointment.
Your child's first visit can be a little intimidating – will they clamp their mouth shut? Will they bite? Will they cry? They may do all three of these and more, but your pediatric dentist should be ready for it. Thankfully, if you start young, this brief visit will be a great start to your child's lifelong dental hygiene.