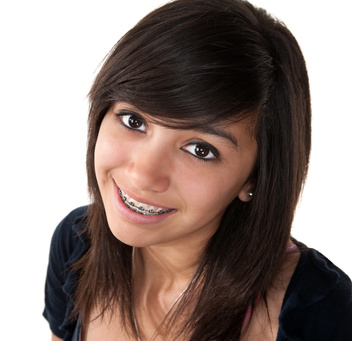 Children start losing their baby teeth at around 5 or 6 years old, and unfortunately, some adult teeth grow in a little crooked. You want their smiles to be as bright and beautiful as their personalities, so you're probably thinking about getting them fit for braces. Or maybe it's time for your own teeth to get picture perfect.  Finding the right orthodontist that fits the needs of your family is essential in keeping you smiling right along with your teeth.
An Orthodontist treats irregularities in the teeth, aligning crooked chompers into straight, beautiful smiles. They also treat occlusions, helping the teeth of the lower jaw match up with the corresponding teeth of the upper jaw when the jaws are closed. With the aid of braces and appliances, such as headgear or neckgear, the teeth are kept in line at night during sleep. Orthodontia requires Doctors of Dental Surgery to complete several years of extra training after dental school, including craniofacial anatomy and orthodontic theory. Orthodontists can make every smile even more beautiful.
While braces can be uncomfortable at times, finding an excellent local orthodontist can put you at ease knowing you are in the hands of a practitioner who cares.  The search for the right one can be daunting but we've found some great orthodontists in your area, and children as young as seven years old can get a consultation on the right type of braces for them. Check out our top three brace-face providers:
Smiles Straight Orthodontics offers three convenient El Paso locations, and will work with you to discuss various payment plan options that fit your budget for your kids, teens or you yourself. Their caring orthodontists will make sure you know what to fully expect before beginning treatment and give you great post braces care guidelines. Dr. Stephen Hunsaker and Dr. Keith Packer have eleven children between their two families, so you know giving kids fantastic service is something they definitely know how to do. Email them at info@epsmiles.com.

 

Dr. Sebastian Rodriguez at Smile Life Braces believes all families, regardless of their economic circumstances, deserve access to affordable, quality orthodontic services and care. They use the latest technologies such as digital 3D oral scans and automated patient appointment reminders. Dr. Rodriguez was a volunteer director for the Community Dental Clinic and was attending faculty for the Cleft Lip and Palate Clinic at the Universidad Central de Venezuela. Dentistry runs in his family, as his wife, mother, two aunts and sister are all dentists, so you know you're in good hands. He is fluent in English and Spanish, and proficient in French. Set up your appointment with them here.
Dr. Silvia Menendez at Smiles Orthodontics has years of experience: first as a general dentist and then over ten years as an orthodontist. She will evaluate if treatment is needed right away or if is better to wait and re-evaluate you or your child in a few months. She will go over the different types of treatment available for your specific situation and discuss whether metal, ceramic or Invisalign braces are right for you. Dr. Menendez also provides comprehensive treatment of patients with craniofacial anomalies and cleft lips and palates. Her all female staff is exceptionally welcoming, bilingual in Spanish, and will go over the various forms of payment plans with you to provide excellent orthodontic care. Email them at info@smiles-orthodontics.com.